iCube Extreme Compact Camera
Product Announcement from NET USA, Inc.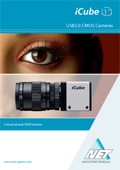 NET's iCube cameras have been equipped with the latest available high-performance CMOS image sensors to offer the best image quality that can be achieved. The iCube series supports monochrome and color image sensors, allowing a wide selection of resolutions and selectable frame rates. Furthermore, the iCube series is offered as industrial and board-level versions.
A single cable connection, no additional power supply devices, and inexpensive cabling make this USB camera a flexible solution that is also fast to implement due the user friendly interface. The additional viewer software iControl allows a quick implementation, access and handling of all iCube cameras.
---