Coaxial Terminations - Up to 10 kW Peak RF Power
Product Announcement from Narda Microwave-East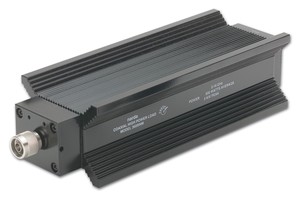 Narda, an L-3 Communications (NYSE: LLL) company, introduces the Model 368BNM and Model 369BNM coaxial terminations that operate from 2 to 18 GHz and 700 MHz to 18 GHz respectively, and are extremely rugged for use in applications ranging from instrumentation to transmitters in the field.

The Model 368BNM handles an RF power input power up to 500 W average and 5 kW peak, has a maximum VSWR of 1.4:1 from 2 to 3 GHz, 1.3:1 from 3 to 12.4 GHz, and 1.45:1 from 12.4 to 18 GHz. It measures 11.9 x 3.88 in. including Type-N connector and heat sink, and weighs 6.5 lb (3 kg).

The Model 369BNM handles an RF input power up to 175 W average and 10 kW peak, has a maximum VSWR of 1.2:1 from 700 MHz to 1 GHz, 1.1:1 from 1 to 9 GHz, and 1.2:1 from 9 to 18 GHz to 18 GHz. It measures 13.1 x 3.88 in. including Type-N connector and heat sink, and weighs 2.5 lb (1.1 kg).

Both terminations are available from Narda for immediate delivery.


About Narda Microwave-East
Narda Microwave-East is a division of L-3 Communications Company, a $15 billion electronics manufacturer serving the military and commercial communication markets. For over 50 years, Narda has developed and manufactured state-of-the-art RF and microwave components, microwave integrated circuits (MICs), multi-function assemblies, and subsystems in the frequency range from DC to 60 GHz for both commercial and military applications. Narda is also the world leader in RF safety products, and a leading manufacturer of fiber optic modulator drivers and oscillators for OC-192 and OC-768 applications. Narda maintains the world's largest inventory of RF and microwave components, many available from stock.
About L-3 Communications

Headquartered in New York City, L-3 Communications is a leading provider of Intelligence, Surveillance and Reconnaissance (ISR) systems, secure communications systems, aircraft modernization, training, and government services. The company is a leading merchant supplier of a broad array of high technology products, including guidance and navigation, sensors, scanners, fuzes, data links, propulsion systems, simulators, avionics, electro optics, satellite communications, electrical power equipment, encryption, intelligence systems, antennas and microwave components. L-3 also supports a variety of Homeland Security initiatives with products and services. Its customers include the Department of Defense, Department of Homeland Security, selected U.S. Government intelligence agencies and aerospace prime contractors.
---