Narda to Unveil New IMA Technology!
Product Announcement from Narda Microwave-East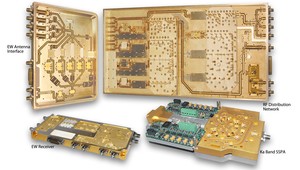 Narda, an L-3 Communications Company, will exhibit its outstanding IMA (Integrated Microwave Assembly) products using its new proprietary microwave multilayer circuits (MMC) technology with digital signal processing. These IMA products allow for extremely compact, densely populated modules, consistent with SWaP goals. Embedded microprocessors and FPGA devices make possible adaptive adjustments that compensate for system dynamics and environmental extremes. Narda's IMA products are offered in frequency ranges from DC to 60 GHz for applications in EW, MILSATCOM, radar, missile, UAV, and related markets. In addition, IMA products and capabilities from our San Diego Tech Center have been added to the Narda portfolio and will be on display as well. Narda will also exhibit its large array of catalog RF and microwave components for off-the-shelf delivery and its RF Safety products.
---