The Ultimate in Microwave Integrated Circuits
Product Announcement from Narda Microwave-East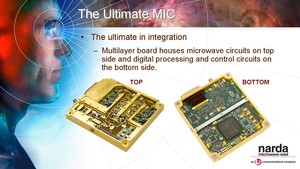 Over the past few years Narda has rapidly advanced the state of the art for producing such products. Utilizing the latest developments in microwave and digital technology, Narda has created the ultimate Microwave Integrated Circuit technology. This technology combines microwave hybrid manufacturing with multilayer printed circuit boards that incorporate advanced digital devices.
These Ultimate MICs surpass the original MICs with
Very dense integration of microwave, analog and digital functions
Incorporation of FPGAs for signal processing and temperature compensation
Improved performance with high reliability
High volume production at much lower cost
For less stringent requirements Narda now a new multifunctional MIC approach which is practical for a variety of requirements, uses new materials and attachment technology, versatile and small size. For the low cost, high volume applications Narda offers SMT Assemblies which are a good alternative to the MIC. MIC techniques are only used in those parts of the assembly when required by the device function. The resultant product is small and low cost.
Products that Narda produces using this technology operate in the 500MHz to 50 GHz frequency range and include complex frequency sources, digitally controlled attenuators, MILSATCOM bock up and block down converters, 43 Gb/s and higher fiber optic data drivers, digitally controlled synthesizers and sophisticated transceivers.
These products are typically custom designed for a given customer requirement. Narda welcomes the opportunity to review your multifunctional assembly requirements and recommend the optimum MIC technology for your application
---