Product Announcement from National Bulk Equipment, Inc.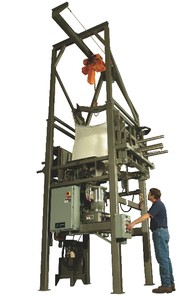 A leading pharmaceutical company had serious challenges discharging a primary ingredient into their process due to the condition of the material when packaged in bulk bag. The crystalline material severely agglomerated into a single 2000lb lump that needed to be fractured into much smaller chunks in order to discharge the material from the bulk bags. Extensive pre-conditioning of the bag was required to discharge the material because the existing bulk bag unloading equipment was not robust enough to cause the material to discharge from the bags. Additionally the equipment did not prevent contaminants from entering the process. The operators resorted to "pre-conditioning" the bag with whatever means they had available. It is not uncommon in these cases to see operators using baseball bats, sledgehammers, and fork trucks to get the material to discharge from the bulk bags. Discharging materials that were in a blocked condition with the substandard discharging equipment was extremely labor intensive and resulted in unsafe operating conditions.
The company contacted NBE for a solution to their discharging problems based on NBE's reputation for supplying reliable equipment that provides real results to customers' problems. The complete solution required the material in the bag to be pre-conditioned and discharged in the same operation so that the bags discharge spout could stay sealed to the product feed tube. NBE's solution to this customer's challenges was to utilize their deblocking ram technology in conjunction with massage paddles, a spout lump deblocker and the E3 spout interface system. Multiple ribs along the deblocking ram face plates direct powerful point loads into the hardened material. This results in the material being fractured into very small lumps within the bag without causing any damage to the bag itself. The spout lump deblocker fractures any lumps that get lodged in the discharge spout to keep material flowing from the bag at all times. The E3 discharge spout interface ensures a sanitary closed process.
Implementation of the NBE severe duty bulk bag discharging system created a sanitary closed process while eliminating the need for the operators to beat on bags with sledge hammers and baseball bats. The time to discharge a complete bag was reduced sixfold from 1 1/2 hours to 15 minutes which greatly improved the productivity and throughput of the process, as well as drastically improving operator safety.
You have successfully added from to your part list.
---