Fully Automated Bulk Bag Filling System
Product Announcement from National Bulk Equipment, Inc.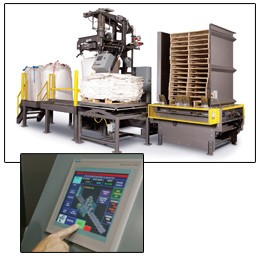 20,000 lbs./hour Fill Rate Demands Fully Automated Bulk Bag Filling System
A global producer of specialty dry resins and chemical additives for use in consumer and industrial applications was facing a significant increase in demand for several of its resin products. Material fill rate requirements were set to increase to 20,000 lbs./hour, far exceeding the capacity of the producer's existing packaging line. In addition, new market requirements called for bulk bag packaging rather than the producer's previous 50-pound sack packaging.
Such significant change to the producer's material processing and packaging operation led to a thorough re-assessment of the operation. Three critical factors were identified. Proper implementation of these factors would ensure the processing and packaging system delivered total line optimization. The critical factors were:
• Equipment Integration: The current upstream material processing operation was fully capable of supplying the packaging operation at the required capacity. The new bulk bag filling system must be able to seamlessly integrate with the legacy, upstream process equipment with no interruption in material flow.
• Process Automation: The new bulk bag filling system automation must include system-wide process control, communication, sensing, and monitoring. The integrated automation of the bulk bag filling system requires handling variable fed-material recipes, multiple bulk bag sizes, high-speed package handling, and all upstream process automation.
• Equipment Construction: The combination of high-volume material flow rates, extended duty cycles, reduced labor utilization, and processing ignitable material required application-specific equipment design, engineering, and construction. The new bulk bag filling system must be designed and built within the rigorous NBE risk assessment procedure to help prevent hazards to those who operate and maintain the equipment.
Single-source Engineering, Manufacturing and Support
Accountable from concept to completion; NBE used 3-D modeling technology to render dynamic process flow and equipment engineering plans in reference to the actual facility layout. This, together with NBE factory acceptance testing protocols, and NBE expertise in domestic and international standards, codes, and regulatory matters ensured a streamlined system start-up and immediate line performance optimization. Integration of the NBE bulk bag filling equipment with the legacy, upstream material feed system was achieved using an applicationspecific, processing-to-packaging conveyor/diverter. To ensure sufficient material flow at start-up, and to allow for the producer's anticipated capacity growth, the conveyor/diverter was designed with a maximum material flow capacity of 48,000 lbs./hour. All upstream process controls, and new bulk bag filling system controls were centralized to a single HMI enabling coordinated material feed, interlocking safety switches, and reduced labor allocation for managing multiple machine operations.
Integrated Automation: Total Process Control From A Single HMI
From custom programming to construction, NBE designed and built a single, UL listed HMI to control all of the system-wide equipment communications, sensing, and monitoring. In addition to the bulk bag filling operation, NBE automated the producer's upstream processing to enable fully integrated automation.
Designed for use by a single operator, the menu-driven controls are presented using a color, touch-screen HMI. High-speed Ethernet communications facilitate system-wide operations, including: building material recipes, metering material feed rates, calling specific pallet types, customizing fill/densify cycles by material, weighing material to an NTEP-certified accuracy of +/- 0.5%, creating operator-specific fillhead settings, and monitoring operator safety systems. The NBE integrated automation optimized line throughput, increased material deliver accuracy, and improved labor utilization.
Equipment Construction: Performance Not Compromise
Thick-wall structural tubing, heavy gauge carbon and stainless steel, high motor HP and torque ratings on gear reducers and drives, and a Class II, Div. 1, Group G, NEMA 12 enclosure with Type X purge provide the total performance advantages inherent in NBE equipment construction. The construction of this application-specific NBE system also includes:
• 4,500 lb. Hang Weight Bag Capacity: Cantilevered fillhead and bag hangers easily lift bag weights that manual or swingstyle designs cannot.
• NTEP-certified Hang Weigh Scale System: As the only manufacturer of NTEP-certified, 4,500 lb. capacity bulk bag weigh systems, NBE provided batch accuracy to +/- 0.5% or better at a 20,000 lbs./hour material flow rate.
• Operator-friendly Bag Hanging and Spouting: Pneumatically-driven actions bring the fillhead forward and move rear hooks to well within the operator's reach; no stepping into equipment, no swinging parts.
• Inline Package Densification: A high-intensity, low-frequency vibration is isolated through the deck to the bulk bag only. This concentrated densification enables precise material fill volume, weigh accuracy, and bag stability; without transfer of vibration to other equipment or work areas.
• Automatic Pallet Dispenser: A continual delivery of pallets to the system was required to support the high-volume packaging. A fully automatic, 20-pallet capacity pallet dispensing unit was integrated to ensure safe and optimal pallet feeding.
• Static Dissipation System: The bag fill sequence cannot begin unless the insulated monitoring clamp is attached to the bag and the system senses the bag is properly grounded. An indicator light informs the operator of proper grounding.
You have successfully added from to your part list.
---