Sealed Container Discharger
Product Announcement from National Bulk Equipment, Inc.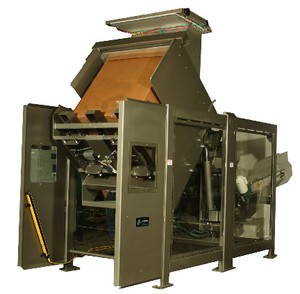 One of the world's largest food companies sought to improve their product quality and reduce manual labor by installing sealed container dischargers' into their packaging processes. Eliminating foreign materials from contaminating their process, reducing operating costs through intelligent automation and complete material discharge, as well as a reduction in system downtime were among the company's primary project goals.
The company contacted NBE to help achieve their goals based on NBE's reputation for supplying systems that result in safe, efficient, contamination free and complete material discharge from all types of containers. In addition to eliminating foreign material contamination and reducing operating costs, NBE felt that optimal solutions were ones that would automatically provide a reliable and repeatable material supply as the downstream systems demand. After all, the performance and reliability of the entire production facility was at the mercy of this first step in the process. After analyzing the customer's processes, NBE confirmed that the best solutions would indeed fully integrate the container dischargers and material transfer conveyors into the customer's existing processes.
The integrated process solutions provided by NBE consisted of Lift & Seal Container Dischargers, Incline Belt Conveyors and Custom PLC Programs with touch screen operator interfaces. In automatic mode the sealed dischargers' container present sensors, in conjunction with the pneumatic container centering devices, ensured that the containers were in the optimal position prior to being sealed into the discharge hoods. When the process calls for additional material the containers automatically raise and seal into the hoods, rotate 180 degrees, open the full width slide gates and convey the material at a rate that matches the downstream systems' line speed. Material present sensors start the dischargers rotating back to their home position once they sense that the material is completely discharged from the containers. When the dischargers are in operation, the entire sequence is kept safe by light curtains and safety side guards. The systems are ideal for applications where an easy clean sanitary design is required.
The real results obtained by the customer after the system installations were increased throughput and productivity, greater than 99.8% equipment uptime efficiency, and reduced operating costs through savings in direct labor and material losses due to spillage, incomplete material discharge and foreign material contamination.
You have successfully added from to your part list.
---