Gasket: NFS/FDA
Product Announcement from National Rubber Corporation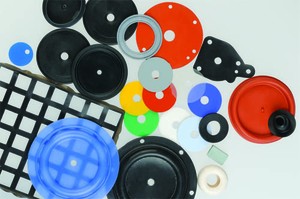 If your product calls for for high quality, complex shapes, or fast turn-around, call the supplier with a national reputation: National Rubber Corporation.
Quick turn around and high quality are advantages of National Rubber. We use a proprietary Engineering Data Worksheet to document our quality from product to product, and lot to lot. It helps us to meet MilSpec, FDA, NSF, UL, AMS, ASTM, Lockheed Specifications. All products are having Tolerances per RMA levels.
If your product demand custom mixing or secondary operations, National Rubber should be your first choice. We can blend elastomer compounds to any formulation for virtually any application in-house. We can also perform precision cutting, corner molding, butt joint, and endless splicing, punching, drilling, PSA application and T-Joint fabrication.
The fact is, no matter what kind of silicone or elastomer profiles you need or how fast you need them, call National Rubber at (412)831-6100. See for yourself why we have a national reputation.
Around the country or around the clock, we'll come through for you!
---