Foundries - Dust & Fume Extraction
Product Announcement from Nederman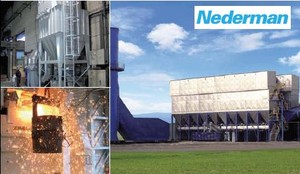 Safe, clean and efficient production with complete solutions for dust and fume extraction at all stages in the foundry process
Extraction of fumes at the furnace
Melting furnaces generate dangerous fumes. Extraction and filtration is necessary to make the production efficient, to protect workers from hazardous substances and to comply with statutory emission levels. Nederman has close capture hoods for collecting hot fumes from furnaces during charging, melting and pouring.
Extraction of dust at moulding lines and sand management
Our wide range of filters, fans and equipment are suitable for everything from single machines to whole processes with multiple extraction points. We ensure optimum collection of dust with the lowest possible air volume, which is vital for keeping the investment and operation costs to a minimum.
Solutions for shot blast machines and fettling shops
Nederman has solutions for extracting and filtering dust from shot blast machines, fettling tables, machining operations and other downstream operations.
See in depth information about Foundry Solutions Use the links on this page to learn more or e mail your inquiries about the solutions that will protect employees and the environment
---