Custom Air Bearings
Product Announcement from Nelson Air, a PI Company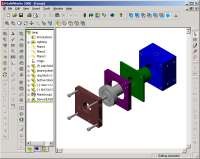 and R&D labs to provide designs that are integrated into a product, used for custom fixturing or used in special laboratory apparatus. We can quickly develop a design based on an application's specific requirements, provide detailed engineering drawings and CAD models, give accurate price and leadtime quotes and assemble the products with the highest quality and performance. By working from our extensive catalog of designs we can complete new designs in a few days and provide these custom products at a cost lower than similar catalog parts from other companies.
We use Solidworks™ 3-D parametric solid modeling to quickly and accurately design our parts, ensuring that they fit and function right the first time. This also allows us to share design files in dxf, dwg, sat, iges and Pro Engineer formats so our customers get accurate drawings and models quickly and easily.
We have experience in analysis and modeling of precision systems using standard calculations and FEA and understand the complex issues associated with nanometer accuracy positioning.
---