CoolDrive™ Solenoid Valve Drivers
Product Announcement from Neptune Research, Inc.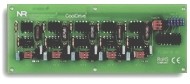 The Original 5 channel CoolDrive® driver circuit uses a holding voltage that is automatically achieved within approximately 100 ms of activating the solenoid. The holding voltage applied is 1/3 of the full rated voltage for the particular solenoid, achieved by interchangeable resistors. The Original CoolDrive® driving / holding circuit allows for independent operation of five solenoid valves, prolongs valve life and reduces overall power consumption required to operate your valve network.
---