Economical Alternative to Stainless Steel Fittings
Product Announcement from Neptune Research, Inc.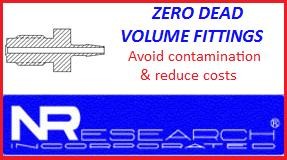 Fittings and Connectors are ideal for Scientific Applications
Neptune Research's zero dead volume fittings, in chemically inert Kel-F®, are ideal for scientific applications. With no cavities they do not trap media and avoid contamination. Available in a variety of sizes and types, Neptune designed them to eliminate unwanted dead volume created when using standard fittings - and save money
Perfect for scientific instrument & analytical device applications, Neptune Research's zero dead volume barb fittings offer the tremendous benefits of Kel-F®
* Excellent Mechanical Properties
* Low Outgassing
* Chemically Resistant
* Wide Temperature Use Range
They are the ideal and economical alternative to costly stainless steel fittings.
See the range of sizes and look for new larger fittings available soon
E mail us via the links on the left - we welcome your inquiries
---