High Efficiency Teflon Manifold Valves
Product Announcement from Neptune Research, Inc.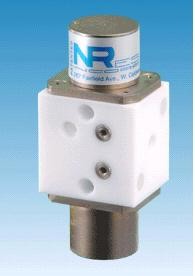 Model xxxT05x - T09x manifold valves incorporate two to six separate normally closed Teflon® isolation valves integral to a single block of Teflon®. The two to six valves have independent inlets and one common outlet, (or, conversely, one common inlet and two independent outlets).

NResearch xxxT05x - T09x series valves are useful for solvent selection, stream splitting, flushing and other automated chemistry applications. They are the ideal choice for new fluidic system designs and can also be used as a direct replacement on existing systems.

Our extensive in house Teflon® fabrication facility and test procedures insure valve reliability and performance. Use model xxxT05x - T09x with NResearch tubing and fittings for a fluidic system easy to assemble and free of dead volume..
FEATURING
All Teflon® Wetted Parts
Controllable Response Time
High Efficiency Solenoid
High Cycle Life
Zero Dead Volume

If you do not find what you need in our close to 1000 standard products, please do not hesitate to send us your special requirements. We are ready to accommodate custom inquiries.

---