Integral Luer Lock Valve
Product Announcement from Neptune Research, Inc.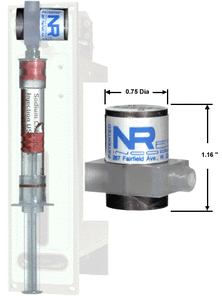 Traditional Luer Lock Adapters used in conjunction with variable range syringe dispensers generate a host of problems related to the changing or replacing of syringes. Damage to ports or connectors cause bubbles, leakage...etc. compromising the accuracy in which precious medias are delivered and dispensed.
NResearch Inc. has developed a Three Way Diverter Valve to alleviate the problems that commonly occur when using a traditional luer lock adapter. Integrally formed Female Luer Lock Connector provides a secure, zero dead volume connection ensuring clean precise delivery of medias.
This valve incorporates an integrally formed Female Luer Lock with the common port of the Kel-F® valve body. This durable construction lends itself to repeated secure connections without degrading valve performance or mechanical integrity.
---