Product Announcement from Rosemount Analytical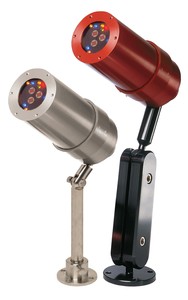 Very serious risks to human life, productivity and equipment are always present at industrial facilities that store, transport and process flammable or explosive chemicals. Automatic flame detection and protective action must be initiated within seconds whenever a fire ignites. Net Safety's Phoenix Triple IR Multi-spectrum flame detector ensures the reliable and instantaneous flame detection response that is required in high-risk applications by utilizing advanced technologies to reduce false alarm events and provides rock-solid performance in any environment.
The Phoenix Triple IR is the ONLY flame detector on the market that does not have an external reflector or light source. Experience has shown that external reflectors and light sources often become obscured by industrial dirt and corrosion which causes unwanted fault alarms that requires difficult and costly maintenance to correct. The Phoenix Triple IR flame detector completely eliminates these issues in applications where salt, dust, petroleum vapor, heavy rain, snow or blowing sand are present. Our proprietary Automatic Visual Integritytesting technology continuously checks optical surfaces for contaminants while at the same time verifying functionality of the sensors and circuitry.
Net Safety has engineered a superior multi-spectrum IR flame detector that is field configurable, easy to maintain, and delivers the security and performance required for any high-risk installation.
You have successfully added from to your part list.
---