Product Announcement from NewAge Industries, Inc. / AdvantaPure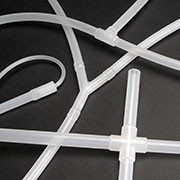 NewAge Industries AdvantaPure® has developed a tubing designed specifically for high purity fluid transfer. AdvantaFlex® is manufactured from a biopharmaceutical-grade TPE (thermoplastic elastomer) for the pharmaceutical, biotech, medical, and critical processing industries.

AdvantaFlex addresses the need for a flexible, translucent, sterilizable, moldable, heat sealable, and weldable bio- pharmaceutical tubing for fluid processing. AdvantaFlex maintains its physical properties following sterilization processes, resists kinking, remains translucent for visible product flow, and does not become gummy. Additionally, the unique properties of AdvantaFlex help it outperform similar tubing in peristaltic pumps.

Single use manifolds are manufactured by molding straight sections of AdvantaFlex tubing with connectors of various styles such as T's, Y's, and Tri-Clamps®. Molded connectors provide a seamless transition for a continuous, unrestricted, leak-proof flow by eliminating barbed fittings. AdvantaFlex molded TPE manifolds are custom made to your specifications and available with validated sterility assurance of 10(-6) log reduction per ISO 11137 method VDmax.

AdvantaFlex complies with USP, ISO, EP, and FDA standards and is free of animal-derived ingredients. Applications include sterile filling, vaccine production, pharmaceutical sampling and delivery systems, peristaltic pump transfer systems, bioreactor processes, cell media and harvesting, pharmaceutical production and processing, high purity water transfer, and filtration.

AdvantaFlex is translucent for visual contact with the flow and may be sterilized by autoclave or gamma radiation. Sizes range from 1/8" through 1" I.D. The tubing is documented lot traceable, offers documented quality control, and is available with validation and extractables test portfolios.
You have successfully added from to your part list.
You need Flash player 8+ and JavaScript enabled to view the AdvantaFlex® Biopharmaceutical Grade TPE Tubing video.
Get the Latest Flash player.
---