Braid Reinforced Tubing
Product Announcement from NewAge Industries, Inc. / AdvantaPure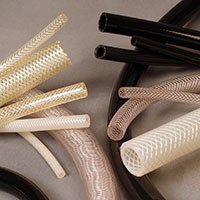 NewAge Industries recently made improvements in its manufacturing processes and realized increased capacity for its braided hose production lines. Inventories of the company's braid reinforced PVC hose, Nylobrade®, and braid reinforced polyurethane hose, Urebrade®, have been increased, and custom work — sizes, colors, cut-to-length pieces, heat-formed shapes — is welcomed.
"We're continuously seeking improvements to our manufacturing methods," said Ken Baker, CEO. "Customers demand faster turnaround times, even on customized products, so it's in everyone's best interest to develop and implement more efficient ways of making our products. We can't afford to become complacent."
Pricing volatility in the market over the last year has also necessitated production improvements. Streamlining processes to become more efficient helps to minimize the effects of fluctuations in raw material, fuel, and logistics costs.
NewAge's PVC hose, Nylobrade, is suitable for a variety of applications including air lines, fluid transfer, protective jacketing, discharge lines, and others. Nylobrade is clear and produced in twelve stock sizes ranging from 1/8" to 2" I.D. with three wall thicknesses — thin, standard, and high pressure — available. Its ingredients conform to USP Class VI and FDA standards.
Naturally transparent, ether-based Urebrade polyurethane hose is manufactured from raw material listed by the National Sanitation Foundation (NSF 61). It is also available in opaque black for industrial purposes. Urebrade offers uses similar to Nylobrade, although it is also appropriate for use with fuels, oils, and greases. Sizes range from 1/4" to 2" I.D. for the transparent style and from 1/4" to 3/4" I.D. for the black version.
In addition to PVC and polyurethane materials, NewAge also manufactures braid reinforced hose made from silicone. Called Silbrade® it is translucent and handles a temperature range between –80°F (–62°C) and 350°F (177°C). Silbrade is manufactured from FDA sanctioned ingredients and is extremely flexible — an important benefit for restricted space installations. For more information on braid reinforced hoses, contact our knowledgable and helpful Sales Team at NewAge® Industries, Inc., 145 James Way, Southampton, PA 18966; phone 800-50-NEWAGE (800-506-3924) or 215-526-2300; fax 800-837-1856 or 215-526-2190; e-mail: psales@newageind.com.
You have successfully added from to your part list.
---