Plug Fans
Product Announcement from New York Blower Company (The)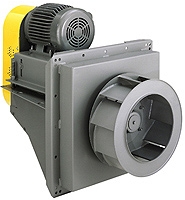 New York Blower Plug Fans can be used for a wide variety of OEM applications. Typically, they are used in applications where the system plenum acts as the fan housing, combining versatility with compact design to reduce overall system costs. This is achieved while maintaining operating efficiencies nearly equal to conventional housed fan equipment. The Plug Fan eliminates the need for connecting ductwork; its mounting panel permits assembled-unit installation to any well-supported plenum wall. These fans, which are literally plugged into a system, are a natural for supply, exhaust, or recirculation air applications, such as multiple path circulation, uni-directional circulation, and counter-directional circulation.
Plug Fans are available with either AcoustaFoil or PLR wheels. The AcoustaFoil airfoil-blade design is the most efficient and quite selection for clean, dry airstreams. The PLR wheel design is a flat, backwardly inclined blade that is best-suited for the efficient movement of moist or mildly contaminated airstreams.
DESIGN FEATURES
· CAPACITIES - to 74,000 CFM
· PRESSURES - to 20" WG
· TEMPERATURES - to 1,300°F
· 12 SIZES - 12" through 49"
· AcoustaFoil and PLR wheel designs
You have successfully added from to your part list.
---