CT585B Pressure / Temperature Recorder
Product Announcement from Newport Electronics, Inc.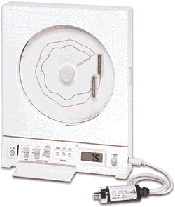 The CT585B sets a new standard in temperature and pressure measurement. This completely self-contained recorder is microprocessor-based for accurate indication of temperature and pressure, along with the current time and storage of peak values (max. and min.). Each function of the recorder is easily accessible from the front panel. The user may select 1, 7 or 32 day operation on the large, 8" (200 mm) chart, and may program the digital display for PSIG, ºF or ºC indication.
Comes with detachable solid state pressure/temp. transducer (with 6 ft cable,) additional 6 ft extension cable, voltage signal input adapter, 100 double-sided charts (CT585-CSP), two pressure and two temperature pens, wall mount template and hardware, 110 Vac adapter, chart lights, 4 "D" alkaline batteries and complete operator's manual.
---