Environmental Surveillance over the Internet
Product Announcement from Newport Electronics, Inc.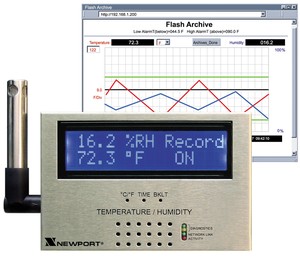 Selected as the 2007 Innovation Award Winner for Instruments and Tools, the NEWPORT® iSE environmental monitor provides Web-based remote surveillance of environmental conditions in critical HVAC applications such as computer server rooms, clean rooms, laboratories, museums, and warehouses, as well as critical refrigeration and cold chain applications.
With this new instrument from NEWPORT, users can view virtual charts and record Temperature, Relative Humidity and Dew Point over an Ethernet network or the Internet with no special software—just a Web browser. Up to four years of data can be recorded on the removable flash memory.
The device can trigger an alarm if temperature or humidity goes above or below a set point that the user determines. The alarms can be sent by email to a single user or to a group distribution list, including text messages to Internet enabled cell phones and PDA's.
NEWPORT Electronics, Inc. began manufacturing instrumentation in 1965 and quickly earned a reputation for designing and building the world's most accurate industrial meters and controllers.
NEWPORT instruments are designed and manufactured in Santa Ana, California, U.S.A.
---