Precision Digital Thermometer Thermocouple & RTD
Product Announcement from Newport Electronics, Inc.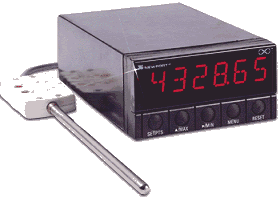 It provides a precision ultra-low constant current excitation to minimize self-heating errors and maximize stability.
SPECIFICATIONS
Thermocouple Input: J, K, T, , R, S, B, N, J DIN
RTD Input: 100ohm Pt (385 or 392 curve) any 6 to 6Kohm NIST or DIN Pt and any linear RTD (10ohm Cu, etc); 2, 3 or 4 wire
Voltage Input: 0-100 mV/0-1 V/0-5 V/1-5 V/ 0-10 V/1-10 V/±50 ± 500 mV/±5 V/±50 V
Current Input: 0-20 mA/4-20 mA
Step Response: 1 sec to 99.9%
Warmup to Rated Accuracy: 50 min
Operating Ambient: 0 to 50°C (32 to 122°F), 95%RH, non-condensing
Storage Ambient: -40 to 85°C (-40 to 185°F)
Power: 115 or 230 Vac, 49-400 Hz; 10 to 32 Vdc
Power Consumption: 6 W nominal, 10 W max.
Normal Mode Rejection: 60 dB
Common Mode Rejection: 120 dB
Common Mode Voltage: 1500 V peak per Hv test
Resolution: 15-bit
Conversion: dual-slope technique
Reading Rate: 3/sec or 13/sec, 60 Hz; 3/sec or 12/sec, 50 Hz
Input Configuration: single-ended Polarity: unipolar/bipolar, programmable
Span Adjustment: +0.00001 to 500,000, programmable
Offset Adjustment: 0 to 999,999 or 0 to -99,999; programmable
Sensor Excitation: 24 V at 25 mA 160 mA for 100ohm RTD 1.6 mA for 10ohm Cu
Display: red or green 6-digit, 14-segment, 13.7 mm (0.54"); 4 alarm indicators
Dimensions: 48 H x 96 W x 165 D mm (1.89" x 3.78" x 6.5")
Panel Cutout: 45 H x 92 W mm (1.772" x 3.622"); 1/8 DIN
Weight: 574 g (1.27 lb)
TTL Outputs: four, isolated open collector; rated 150 mA at 1 V sink, 30 V open
Dual Relays: form C, 7 A at 30 Vdc, 115 or 230 Vac
BCD Output: isolated, tri-state, TTL/CMOS compatible; external 5 V supply for isolated; internal 5 V supply for non-isolated
Four Relay Option: dual 7A relays and dual 1 A relays
Analog Output: 0-5 V/1-5 V/0-10 V/0-20 mA/4-20 mA, user selectable; 354 Vp isolation; 14-bit resolution; 0.1% accuracy, 50 msec step response
RS-232 Communications: 300/600/1200/2400/4800/9600/19.2k baud; RJ11 4-wire connection; complete program setup and message display capability; programmable to transmit current display, alarm status, min / max, actual measured input value and status, supports continuous or command mode
RS-485 Communications: 300/600/1200/2400/4800/9600/19.2k baud; RJ12 6-wire connection; addressable from 0 to 199
You have successfully added from to your part list.
---