ULTRA-MINIATURE TEMPERATURE TRANSMITTERS
Product Announcement from Newport Electronics, Inc.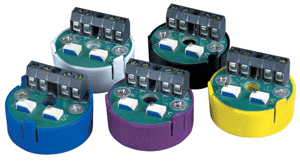 NEWPORT Ultra-Miniature temperature transmitters convert millivolt inputs from thermocouples or resistance from RTD's into 4-20mA outputs. Transmitters are available in color-coded enclosures covering the four most popular thermocouple types (J, K, T and E) as well as three-wire 100 Ohm platinum RTD's.

Featuring state-of-the-art integrated circuits and electronic design these ultra-compact transmitters have a diameter of only 35.6mm (1.40") and are designed to fit in many compact thermowell protection heads such as the NEWPORT NB2.

Models TX93A and TX94A transmitters can eliminate long runs of costly field wiring in a variety of applications. A stable 4 to 20 mA output signal is provided proportional to the transmitters specific input type and calibrated temperature range. Adjustability of ±25% for zero and span is provided to facilitate some rangeability. The transmitted signal eliminates noise pickup, voltage drops, multiple cold junction errors and requires only a twisted pair of copper wire for loop connections.

All models and ranges of these NEWPORT ultra-miniature transmitters are available with fully epoxy-potted electronics (specify -P option) providing the ultimate protection in extreme environments.
---