wiSeries High Power Wireless Transmitters
Product Announcement from Newport Electronics, Inc.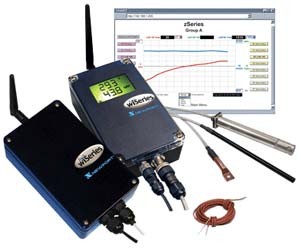 Features
Web Server
Email Alarms
No Special Software Required
High Power
NEMA 4 / IP65 Enclosure
Temperature
Humidity
Barometric Pressure
Dual Thermocouple Input
Analog Voltage & Current Inputs
The rugged high-performance, high power NEWPORT® wiSeries wireless transmitters featured on this page are compatible with the NEWPORT zSeries and wiSeries system for Web-based monitoring of Analog Voltage and Current, Temperature, Humidity, and Barometric Pressure.
The radio is a High Power IEEE 802.15.4 compliant transmitter operating at 2.4 GHz designed to transmit over greater distances and through more obstructions than the standard transmitter.
These wireless sensors transmit up to 1000m (3280')--without obstructions or interferences to a zSeries coordinator or wiSeries meter-controller. The coordinators and controllers connect directly to an Ethernet network and the Internet and serve active Web Pages to display and chart the data.
You can monitor and record Analog Voltage and Current, Temperature, Relative Humidity, and Barometric Pressure over an Ethernet network or the Internet without any special software--just your Web Browser.
You can even set alarms to be notified by email. Alarms can be sent to a single user or to a group distribution list, including text messages to cell phones.
These wiSeries wireless sensors are designed for demanding industrial applications indoors and harsh outdoor environments. The electronics are protected in a rugged weatherproof polycarbonate NEMA4 / IP65 rated housing. The rugged industrial sensors are supplied with ten feet of cable.
---