wiSeries meter-scanner-controller
Product Announcement from Newport Electronics, Inc.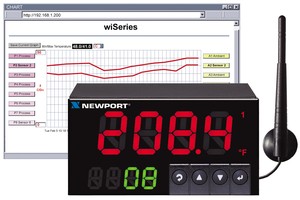 The wiSeries 1/8 DIN Panel Meter & Controller can monitor up to eight (8) wireless sensors. The standard wireless sensors transmit 90 meters--without obstructions or interference--and the high power sensors transmit up to 1,000 meters at 2.4 GHz.
The compact instrument connects directly to an Ethernet network and the Internet and features Newport's award-winning embedded Web Server. It is easily configured and monitored with a Web browser over the Ethernet network or the Internet. No special software is required.
The wi8 meter-scanner-controller offers a choice of relays, or analog output that can be used for control functions or alarms. The wi8 meter can monitor alarm conditions for any or all of the wireless sensors.
NEWPORT offers a wide and growing selection of wireless sensors for a variety of applications. Depending on application, the wireless sensors are powered by batteries or an external AC Adapter that operates on any voltage worldwide from 100-240 VAC.
Wireless transmitters are available with external probes appropriate for an almost unlimited variety of industrial and commercial applications.
NEWPORT Electronics, Inc. began manufacturing instrumentation in 1965 and quickly earned a reputation for designing and building the world's most accurate industrial meters and controllers.
NEWPORT instruments are designed and manufactured in Santa Ana, California, U.S.A.
---