Planetary gearhead in Helical cutting gears
Product Announcement from Newstart Motion Industries Ltd.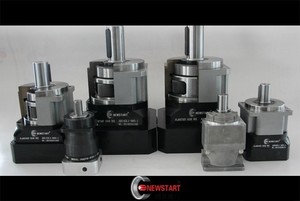 When the motion require a precision positioning for power tansimission parts, we mostly use a servo system as the driving force, because servo motors are operated in colsed-loop at very good accuracy. but in lot of case the motor output speed too fast and torque too small, so mostly we will couple a gearbox with the motor to reduece the speed and boost the torque. to keep the accuracy and avoid the motor to ' loose loop ' , use a precision low backlash gearbox is necessary. Because the processing of Precision gears is complicate and require precision machine tools, so the cost of a precision gearbox is high.
Today we introduce our True Helical Planetary gearbox to the market, due to modularized designning and Technology Integration on Manufacturing, we have cut the cost far lower in the market. they are a good choice for you to cut your servo packages.
Here are some features and advantages of our AB AF AD series Planetary gearbox,
1)True Helical Gear Design
Precision hulical gears increase tooth to tooth contacting by over 33% compare with spur or straight gears. the helix angle produces smooth and quiet operation with decreased backlash, less than 2 arcmin and ≤ 56dB
2) Triple split collet with dynamic balanced set collar clamping system
provides backlash free power transmission and eliminates slippage. 100% concentricity allows for smooth rotation and higher input speed capability.
3)The unique motor adapter designning allows for quick and easy mounting of any Metric or Nema motors

4)A special non-electrolysis nickel surface treatment on the output housing and black anodized aluminum input adapter are provided for the most extreme environmental conditions.
5) Single piece structured ring gear with housing
Helical internal ring gear is machined directly into a single piece of steel. Maximized diameter and number of teeth to improve overall performance and torque capacity.
6)Lubricated with synthetic grease and sealed to IP65 standards prevent leakage and is maintenance free.
7)Whole piece planet carrier designing
One piece planet carrier with extended bearing design provides maximum radial load capacity and increases system reliability and stiffness.
8)Nitriding heat treatment process maintains the tooth surface hardness at 900 Hv for superior wear-resistance and a core hardness at 30 HRc for toughness.
9)Solid Needle roller bearings without cage to support the planet gears, and high speed ligh bearing to support the input/output shafts, in low noise and smooth running.
10) Input sealing system design eliminates break away torque and decreases friction/heat. The hi-tech coating bushing interfaces with our proprietory seal which decreases wear and erosion of both sealing surfaces. This new patent prevents leakage and has a service life of over 20,000 hours.
11) Output sealing systems design eliminates friction and heat generation which is accomplished by applying our hi-tech coating to all output contact surfaces. This coating reaches a hardness of 3700 Hv and is ground to Ra 0.2mm finish to ensure sealing.
12) Solid,Single piece sun gear construction obtains precise concentricity with increased strength and rigidity.
---