Coaxial Lightning Protection to 125,000 Amps
Product Announcement from NexTek, Inc.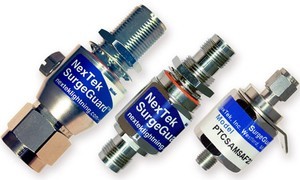 NexTek's surge protection devices are among the most robust arrestors available. Used at frequencies of up to 18.0GHz to protect a wide variety of commercial and military radio applications, NexTek coaxial protectors are available in a wide variety of connector types and gender for use with many different types of equipment.
Most NexTek protectors use heavy duty, multi-strike, gas discharge tubes (GDT) to protect equipment from transients. PTC models use factory installed GDTs for the life of the arrestor. PTR models use GDTs with holders that easily unscrew for on-site replacement. The GDT is selected based on the RF power of the application. To optimize installation mounting and grounding brackets are available for most models.
For higher frequency, higher RF power applications, or lower let-through energy requirements, consider the QSS (incredibly robust), E-Class (6GHz), G-Class (12.5GHz), or FPL (GPS) series.
These units are built in the USA to withstand the most extreme of environments, typically rated to IP68 standards (submerged to 1 meter for 24 hours). The SurgeGuard series of coaxial lightning protection devices is constructed of high quality metals, typically nickel plating over brass machined bodies.
For more information on Selecting a Coaxial Protector, please visit NexTek's website HERE for articles and resources
---