Dual 75 Ohm
Product Announcement from NexTek, Inc.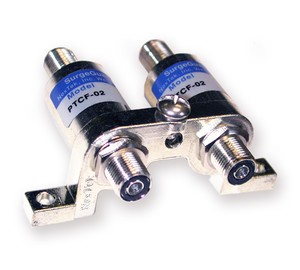 Highest surge protection available for CATV F Connectors!
Our patented F-Class technology delivers the highest frequency "F" Connector surge arrestor in the industry for CATV, remote video monitoring, broadband and cable modem solutions. Able to withstand harsh environmental conditions, the high reliability F-Class is both rugged and waterproof.
The protectors in the PTC-C049 come pre-installed in a dual bracket, making it ideal for most Satellite applications.
Technical Specifications
0(dc) - 2.5GHz
VSWR: 1.2 typical
Insertion Loss: 0.15 typical
Maximum Surge Protection: 20kA (connector limited)
Multiple Strike Protection: 10kA(10x)
Gas Discharge Tube 90v
Nickel Plated Brass & Bronze/Silver Pin Construction
Environmental: IP67
For more information or a datasheet with complete product specifications, visit www.nexteklightning.com.
---