New 7/16DIN Bias-Tee for Telecom Applications
Product Announcement from NexTek, Inc.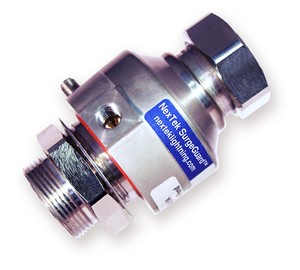 NexTek, Inc., a leading designer of best-in-class lightning protection and EMC / power conditioning products and services, announces the availability of a revolutionary coaxial Bias-Tee.
10Amps dc Capability
High RF Power Limits
Built-in SurgeGuard™ Power Surge Protection
Ultra-Long Life Expectancy.
Designed for Telecom applications with 7/16DIN connectors, this new surge arrestor family provides excellent RF performance specifications and represents a significant advance in Bias-Tee technology. As a result of patent pending design improvements, this device exhibits over fifty times the industry-standard life expectancy when exposed to a transient current of 30kA, yet requires no gas-tube maintenance.
The BTL-C012 is rugged and waterproof. It is designed to operate at frequencies ranging from 0.82-2.2GHz. It is characterized by its low VSWR ranging from 1.05:1 typical to 1.15:1 maximum, high RF power handling, 10A DC injection capability, and compact design.
The SurgeGuard™ Bias-Tee series of lightning arrestors is available in various voltage and polarity configurations. For more information or a datasheet with complete product specifications, visit www.nexteklightning.com
---