QSS Series Quarter Wave Stub Protectors
Product Announcement from NexTek, Inc.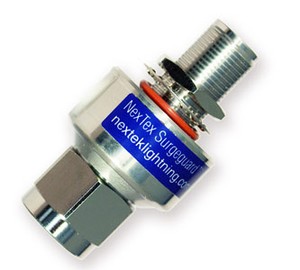 The Next Generation Quarter-Wave Stub Series from NexTek, Inc. are available in many operating bandwidth frequencies, assorted connectors and genders in wideband, .82 - 2.2GHz and narrowband, and variable frequency ranges to 6GHz. These units can accommodate diverse wireless applications. Reverse polarity units are also optional in many of the models.

These Quarter-Wave Stub Technology Protectors utilize an innovative "Stub-less" design. These are compact strong units, bi-directional, waterproof, Guardplated™ and able to handle multiple lightning strikes while requiring no maintenance.
The QSS Series Protectors have a 10 Year Limited Warranty.
Features:
Narrow band: 20% BW - 100MHz - 6GHz
Wideband: .82 to 2.2GHz and 2.4 to 6GHz
Ultra-low let-through (6v - 12v)
up to 100kA one-time protection
Multiple strike 60kA transient capability
RF Power capability to 3kW
For more information or a datasheet with complete product specifications, visit www.nexteklightning.com.
---