SMA Surge Protector - High Frequency to 12.5GHz
Product Announcement from NexTek, Inc.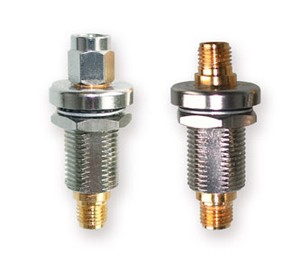 Maximum protection in minimum space
The G-Class SMA Series surge protectors offer exceptional performance in a very small package. Suitable for use as a feedthrough connector in most enclosures, the G-Class arrestors will save costs on your wireless design.
G-Class arrestors provide maximum protection in the minimum space for applications up to 12.5GHz. The G-Class is a new family of very compact gas discharge tube-type lightning arrestors with SMA connectors that meet the most stringent military, commercial, and environmental standards, including IP68. It provides industry-leading performance characterized by very low VSWR and insertion loss. Compact geometries assure maximum protection in the minimum space. Constructed using nickel-over-brass, a gold center conductor and gold contacts, additional features include: normal and reverse polarity SMA connectors, 10x multiple strike capability @ 5kA, 20kA (8x20μs) surge capability, and bi-directional protection.
0(dc) - 12.5GHz
SMA-female to SMA-female or male, bi-directional
Maximum Surge Protection: 20kA (connector limited)
Reverse Polarity Available
VSWR: 1.2 typical
Insertion Loss: 0.1 typical
Multiple Strike Protection: 5kA(10x)
Nickel Plated Brass & Gold Pin Construction
For more information or a datasheet with complete product specifications, visit www.nexteklightning.com.
---