Satellite Navigation System Lightning Protector
Product Announcement from NexTek, Inc.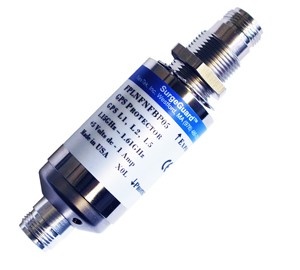 GPS, Galileo, EGNOS, WASS, GLONASS - Maximum Protection and passes DC!
Nextek, Inc. has recently released a new surge protector specifically designed for use in Global Navigation Satellite Systems.
With an ultra low clamping voltage of only 8 volts and a very fast response time of 10ns, this new protector will protect even the most sensitive of systems from both LEMP and NEMP type surges.
1.15GHz - 1.61GHz
N-female to N-female
Very Low Let-Through: See datasheet for variants
Trigger time: 10ns
VSWR: 1.10 typical
Insertion Loss: 0.10 typical
Maximum Surge Protection (Imax): 30kA
Multiple Strike Protection (IN): 20kA(10x)
Environmental: IP68
---