The Best Lightning Protector for the Cisco Aironet
Product Announcement from NexTek, Inc.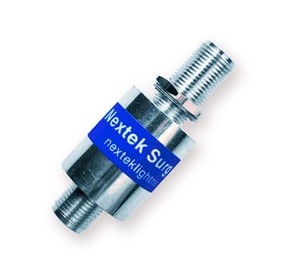 The PTC-C030 patented design is simply the best lightning protector for the Cisco Aironet. The gas discharge tube and sub-components used in this device are the highest quality available and exceeds the surge protection capability of the F connector itself, this means that the connectors will be destroyed before the Gas Discharge Tube is damaged, protecting the equipment from very high surge currents.
THE PTC-C030 IS SO WELL DESIGNED, NO REPLACEMENT GDT WILL EVER BE NECESSARY.
The PTC-C030 lightning arrestor is designed for high lightning strike areas, and has optimized RF performance at frequencies up to 2.5GHz. This specially designed SurgeGaurd product is also characterized by passing DC without any degradation to performance and addresses the stringent demands of the Cisco Aironet application.
Specially Designed for Cisco Aironet 1400 Series
0(dc) - 2.5GHz
VSWR: 1.2 typical
Insertion Loss: 0.15 typical
Maximum Surge Protection: 30kA (connector limited)
Multiple Strike Protection: 20kA(10x)
Gas Discharge Tube 90v
Nickel Plated Brass & Bronze/Silver Pin Construction
Environmental: IP67
For more information or a datasheet with complete product specifications, visit www.nexteklightning.com.
---