Flange Mounted Clutch Brakes Enclosed (FMCBE)
Product Announcement from Nexen Group, Inc.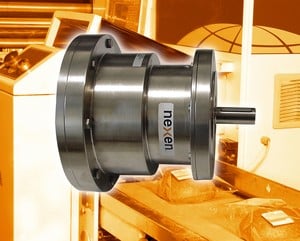 Nexen announces enclosed, air-engaged clutch brakes designed specifically to withstand washdown in the bakery and food processing industry. Flange Mounted Clutch Brakes Enclosed (FMCBE) nickel-plated models include a NEMA standard 1.26.5 (IP 54) version for waterproof machines and a BISSC-certified version, which features an optional Air Champ locking key for high cycle rate applications.

FMCBE clutch brakes feature nickel-plated housing and flanges to resist corrosion and bacteria build-up common to washdown food and bakery applications. A stainless steel output shaft includes a captive key and stainless steel fasteners, and a single double-acting piston prevents overlap of the clutch and brake functions. An optional nickel-plated input unit and foot mounts are available for right-angle drive applications.

The new locking key feature-available on the BISSC-certified clutch brake-virtually eliminates costly keyway damage, while providing unparalleled positive connection for maximum torque. The unique locking bar system prevents the key on the output shaft from tipping in the keyway, eliminating the possibility for key and keyway damage that results in a loss of productivity. With the input shaft key secured with a set screw, an input and output shaft key configuration delivers optimum positive connection for superior torque transmission. Best of all, the locking key feature is available at no additional cost.

Additional optional features include a C-faced adaptor for foot-mounted applications and an integral valve, used primarily for easier and faster installation. The BISSC model can handle up to 2 hp motors, while other nickel-plated sizes can handle up to 10 hp motors.
Nexen Group, Inc is a leading manufacturer of precision motion control solutions including linear drive systems, precision rotary indexers, linear locking components and power transmission products including spring set brakes, tooth clutches and torque limiters for a wide variety of automation applications in the Aerospace, Robotics, Machine Tool, Automotive, Packaging, Material Handling and Medical Industries. For more information, contact Nexen Group, Inc., 560 Oak Grove Parkway, Vadnais Heights, MN 55127. Phone: 651-484-5900. Fax: 651-286-1099. E-mail: info@nexengroup.com. Website: www.nexengroup.com.
---