Product Announcement from Nexen Group, Inc.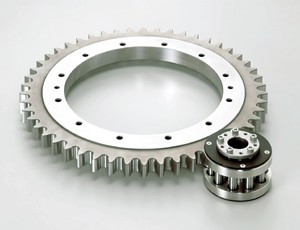 Precision Operation Maintains Accurate Positioning
The RPG system features an innovative ring gear and roller pinion technology that
provides extremely accurate positioning. The Roller Pinion Gear system also offers
backlash-free performance in both directions by maintaining opposing contact with
two or more teeth at all times.
Patented Tooth Design Ensures Quiet Operation
The RPG system is designed with bearing supported rollers that move smoothly along
the face of each tooth. This reduces the noise levels by eliminating tooth slap common
to traditional gear systems and chain drives.
Solid and Segmented Ring Gears Provide Easy Integration and Unlimited Diameters
Nexen can provide solid ring gears up to one meter in diameter. Ring gears larger than
this become segmented and can be virtually any diameter. Arc segments can also be
provided.
Rugged Design Capable of High Speeds
The RPG system maintains accurate positioning at peripheral speeds as high as 11
m/sec (36.1 ft/sec). Even at these speeds, the extremely-low friction design does not
create heat or wear on components.
Click here to view the Roller Pinion Gear System Technical Data Sheet.
Nexen Group, Inc is a leading manufacturer of precision motion control solutions including linear drive systems, precision rotary indexers, linear locking components and power transmission products including spring set brakes, tooth clutches and torque limiters for a wide variety of automation applications in the Aerospace, Robotics, Machine Tool, Automotive, Packaging, Material Handling and Medical Industries. For more information, contact Nexen Group, Inc., 560 Oak Grove Parkway, Vadnais Heights, MN 55127. Phone: 651-484-5900. Fax: 651-286-1099. E-mail: info@nexengroup.com. Website: www.nexengroup.com.
You have successfully added from to your part list.
---