Nexen 5H Series Tooth Clutches
Product Announcement from Nexen Group, Inc.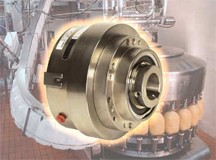 Nexen 5H Series Tooth Clutches deliver fast, no-slip engagement for washdown applications where high torque is required. The completely enclosed tooth clutches provide positive torque transmission and feature a nickel-plated exterior and rotary seal to withstand wet, corrosive environments common to food and beverage processing applications.
The 5H Series Tooth Clutch models offer positive, single-position tooth interface for synchronized engagement and feature a torque range of 500 to 12,000 in.-lbs.-with instantaneous torque at engagement up to 7,100 in.-lbs. The nickel-plated exterior and rotary seal meet NEMA 1.26.5 water protection standards.
Flexible 5H Series Tooth Clutches are compatible with timing belt sprockets, chain sprockets, belt pulleys or couplings for use in a broad range of applications. Tooth clutches can be simply flange- or pilot-mounted and are controlled with a 3-way, solenoid, pneumatic valve. Optional solid-lube and/or stainless steel bearings are available, as well as optional single- or double-flex, nickel-plated couplings with high-misalignment capabilities for in-line shaft connections.
Nexen Group, Inc is a leading manufacturer of precision motion control solutions including linear drive systems, precision rotary indexers, linear locking components and power transmission products including spring set brakes, tooth clutches and torque limiters for a wide variety of automation applications in the Aerospace, Robotics, Machine Tool, Automotive, Packaging, Material Handling and Medical Industries. For more information, contact Nexen Group, Inc., 560 Oak Grove Parkway, Vadnais Heights, MN 55127. Phone: 651-484-5900. Fax: 651-286-1099. E-mail: info@nexengroup.com. Website: www.nexengroup.com.
---