RLSS Series Rod Locks
Product Announcement from Nexen Group, Inc.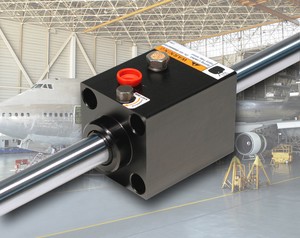 Nexen's RLSS Series Rod Locks deliver superior holding capabilities with extremely low backlash for demanding linear motion control applications where high accuracy is required. The spring-engaged, air-released series-available in a wide array of standard and custom sizes-features a wide clamping surface to ensure high holding forces even during power/pressure loss, providing reliable precision gripping of up to 5,026 pounds, depending on the model.

RLSS Rod Locks ensure accurate positioning and holding while other operations are performed. The rugged rod locks utilize numerous ball bearings to transfer the spring force onto the clamping collar, resulting in large clamping areas designed to provide a uniform force to the contact area on every engagement. This allows the lock to engage without any rod displacement. Additionally, a cam operated manual release feature mechanically disengages the rod lock with no special tools needed-just a simple turn of a hex screw using a standard wrench. The default-to-lock function springs back to the engaged position when released.

Available in ISO and NFPA sizes, robust Nexen RLSS Series Rod Locks are IP67 rated and withstand harsh industrial environments, including washdown applications. Flexible RLSS Series Rod Locks accept most standard accessories and provide an ideal solution for many applications including:
Robotics
Inspection equipment
Transfer equipment
Injection molding equipment
Food processing
Packaging machinery
Material handling
Machine tool
Aerospace
Positioning equipment
Nexen Group, Inc is a leading manufacturer of precision motion control solutions including linear drive systems, precision rotary indexers, linear locking components and power transmission products including spring set brakes, tooth clutches and torque limiters for a wide variety of automation applications in the Aerospace, Robotics, Machine Tool, Automotive, Packaging, Material Handling and Medical Industries. For more information, contact Nexen Group, Inc., 560 Oak Grove Parkway, Vadnais Heights, MN 55127. Phone: 651-484-5900. Fax: 651-286-1099. E-mail: info@nexengroup.com. Website: www.nexengroup.com.
---