Product Announcement from Nice Instrumentation, Inc.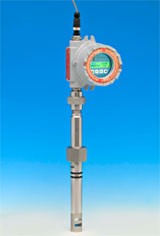 LPIV - LOW PROFILE INSERTION VORTEX METER
NEW!!!! LPIV - 360 Degree Rotation
Accuracy • Reliability • Standardization • Installation
Built for Long-Term Reliability
Solid Stainless Steel Construction -
All parts of our meters are machined from solid stainless steel stock.


TURCK Weather Proof Connector -
This allows for field mountable connect & disconnect without opening the enclosure or wiring terminals.


Explosion Proof Enclosure Comes Standard


Holding Nut -
Stainless steel nut holds the bar in place after meter is installed into line.


Safety Pin -
Our safety pin acts as a secondary safety mechanism which keeps the bar from moving and when under pressure, locks into place. The secondary purpose is for precise meter alignment. When the pin is inserted, the sensing element is positioned perfectly upstream, allowing for the highest level of accuracy.


Alignment Mounting Assembly -
The Mounting Assembly is machined from solid stainless steel stock to precisely fit the outside diameter of the pipe. Each mounting assembly is custom fit for each application. An arrow representing the direction of flow and line size is machined into each assembly to virtually eliminate possible installation errors.


Microtel Smart TX -
The Microtel Smart TX is a low power two wire 4 -20 ma transmitter with multifunctional capabilities. This device is auto ranging with six digits of rate and eight digits of totalizing, available in all engineering units. All parameters can be modified via our keypad or computer. There is also a serial port to read and download data into memory.
LPIV - LOW PROFILE INSERTION VORTEX METER
The low profile insertion vortex flow meter is a cross pollination of an inline meter and an insertion meter. The purpose is to simplify the installation and eliminate human error when installing a flow meter. The insertion depth is always held to an exact position, and the meter will always point up stream, eliminating calibration variables.
The meter has a low profile and can be installed in any orientation, vertically or horizontally around the pipe. Since most problems with the operation of an insertion meter is installation related the start up reliability of the meter reading is very high.
There are no other parts required, other than the meter during installation. The mounting assembly welds directly on the outside of the pipe. The radius of the mounting assembly is machined to fit the diameter of the pipe, from two inch to twenty four inches in diameter. There is an arrow machined into the mounting assembly showing the direction of flow.
Once the mounting assembly is welded to the pipe, the insertion bar can then be inserted into the mounting assembly.

The insertion bar is designed to have no leak paths to the sensors or the electronics. All mechanical assemblies on the insertion bar are electron beam welded with no O rings or compression seals. If for any reason the insertion bar is damaged, it can be replaced without removing anything off the pipe. There are two sizes of insertion bars, one for two - four inches and one for six - twenty four inches; therefore one spare part can fit many lines sizes and could be interchangeable.

The meter has been designed for safety. There is a pin which is inserted into the mounting assembly once the insertion bar is inserted into the pipe. This pin serves two purposes. The first is to align the meter with the flow; the second is to prevent the meter from coming out under pressure. The pin can only be installed with zero line pressure. When pressure is applied, the pin is locked in place and cannot be removed. There is also a large nut which screws down over the insertion bar onto the mounting assembly. This nut also holds the insertion in place and keeps it from coming out of the line under pressure. When pressure is applied to the line, the insertion bar cannot be removed; even if someone removes the holding nut, the pin is still in place.

These meters include our Smart Transmitter Electronics, "MicroTel". There are six digits of rate and eight digits of totalization. All parameters can be modified via a keypad. The electronics is a two wire device, 4 to 20 mA and can be remote mounted over three hundred feet from the meter. There is also a serial port to read and down load data into memory.
Nice Instrumentation Inc. designs their vortex flow meters to be universal for almost all fluid types. Steam, Gas, Air and Water are just a few of the applications where our meters perform best. Nice Instrumentation prides its self on the instrument aspect of our meters. Dual sensors provide high signal quality for a flow rate you can count on.
Each meter is personally programmed for the end users application before shipment and comes with everything you need for installation. This makes installation quick and easy with no pre-programming required before installation.
Many companies and industries have standardized on our vortex meters because of the wide range of fluids we measure. Below are just some of industries we have helped.
Automotive Industry
Chemical Industry
Plastics Plants
Asphalt Plants
Universities
Hospitals
Hotels
Food Processing Plants
WELCOME TO NICE INSTRUMENTATION
Vortex shedding flow measurement has been Nice Instrumentation 's business for over 20 years. Nice Vortex Flow Meters give accurate and repeatable measurement in steam, gases and liquids. The full line of Vortex Flow Meters are designed to withstand the harsh environment both inside and outside the pipe, making the "Next Generation Vortex Flow Meters" a completely maintenance free design.
Dual Sensor Technology using our Microtel microprocessor based electronics eliminates process fluid noise or vibration, while enhancing the true vortex signal. Our Vortex Flow Meters have absolutely NO moving parts, NO internal o-rings, seals or gaskets of any kind. All of our vortex elements are CNC machined out of solid stainless steel stock while our sensors NEVER come into contact with the process fluid.
With over 100 years of combined engineering and machining experience, one can feel confident that your company is getting the world's most innovative and heavy duty flow measurement designs.
APPLICATION WIZARD Nice Instrumentation prides itself with having superior products, while providing superior advice for our customers application needs. The engineers at Nice Instrumentation are here to help you.
You have successfully added from to your part list.
---