Product Announcement from Nice Instrumentation, Inc.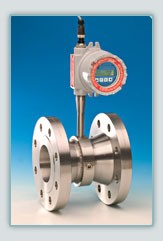 Our NEW Flanged Vortex Plate Inline flow meter has a universal design which can be used in many types of process fluids including liquids, gases, and steam lines. The Flanged Vortex Plate can provide a solution for your high pressure to your low-flow applications.
The Vortex Plate Flanged meter can be used as a standard flanged meter or sized to help measure your low flow applications. The vortex plate flanged meter can measure low flow rates 2 to 3 times lower than a standard in-line vortex flow meter. No need to reduce your line sizes, the FVP will allow your customer to install a full size meter where other meters may require multiple line size reductions, in the end reducing installation costs.

Over 30 years of experience has gone into our meter body. The meter body is machined out of one piece of solid stainless steel stock. There are no o-rings or graph oil seals to ware, fail or leak. The internals of the meter body have no holes to clog or edges to collect dirt or bacteria and there are of course, no moving parts.

The element is machined into the body of the meter and its position is permanent and accurate. There are no pins holding in the element which can corrode or move. By machining the element into the body of the meter allowed for a more creative element and tail design. There are radiuses on all points between the element and the meter body which produces a more uniform signal with a high degree of accuracy.

Our dual sensor technology produces two independent vortex signals which allows for signal amplification and common mode noise reduction. Our sensors never touch the process fluid. Our crystal sensors are bonded to a stainless steel wall. The electronics pick up the slightest pressure pulsations through the stainless steel wall generated by the vortices. This design allows our meters to have an extremely low turn down while maintaining an almost unlimited upper end with a high pressure rating.

This meter can come equipped with ANSI or DIN flanges rated from class 150 to 1500 pound applications. For higher pressure applications NICE offers our FVP models equipped with API flanges that can be rated up to 5000 psig. If your connection is a raised face to a ring grove Nice Instrumentation and our design team can build you a high pressure flow meter to meet your specific needs.
Please click on the links for more information or request a quote today!
Nice Instrumentation Inc. designs their vortex flow meters to be universal for almost all fluid types. Steam, Gas, Air and Water are just a few of the applications where our meters perform best. Nice Instrumentation prides its self on the instrument aspect of our meters. Dual sensors provide high signal quality for a flow rate you can count on.
Each meter is personally programmed for the end users application before shipment and comes with everything you need for installation. This makes installation quick and easy with no pre-programming required before installation.
Many companies and industries have standardized on our vortex meters because of the wide range of fluids we measure. Below are just some of industries we have helped.
Automotive Industry
Chemical Industry
Plastics Plants
Asphalt Plants
Universities
Hospitals
Hotels
Food Processing Plants
WELCOME TO NICE INSTRUMENTATION
Vortex shedding flow measurement has been Nice Instrumentation 's business for over 20 years. Nice Vortex Flow Meters give accurate and repeatable measurement in steam, gases and liquids. The full line of Vortex Flow Meters are designed to withstand the harsh environment both inside and outside the pipe, making the "Next Generation Vortex Flow Meters" a completely maintenance free design.
Dual Sensor Technology using our Microtel microprocessor based electronics eliminates process fluid noise or vibration, while enhancing the true vortex signal. Our Vortex Flow Meters have absolutely NO moving parts, NO internal o-rings, seals or gaskets of any kind. All of our vortex elements are CNC machined out of solid stainless steel stock while our sensors NEVER come into contact with the process fluid.
With over 100 years of combined engineering and machining experience, one can feel confident that your company is getting the world's most innovative and heavy duty flow measurement designs.
APPLICATION WIZARD Nice Instrumentation prides itself with having superior products, while providing superior advice for our customers application needs. The engineers at Nice Instrumentation are here to help you.
---
You have successfully added from to your part list.
---