Product Announcement from Nice Instrumentation, Inc.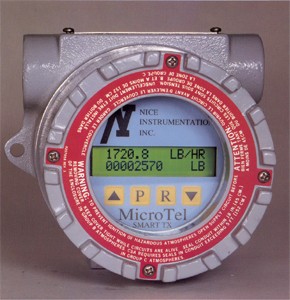 Features:
The design of the microprocessor based smart transmitter, "MicroTel", incorporates high density, surface mounted, multi-layer technology.
The new design improves flow signals due to poor upstream piping.
Many situations where restricted installations would cause a vortex meter to fail are now acceptable
16,000 points of data logging with sampling time from 1 minute to 256 minute in real time
Low power, 4-20mA two-wire operation - operating voltage 10 to 30 volts
Simultaneously transmits 4-20mA and pulses in engineering units, as well as serial communications
The 4-20mA output has conversion accuracy of .025%
2 lines, 16 characters each line, alphanumeric, easy to ready L.C.D. display
Continuously displays both rate and totalization including engineering units
Operators can change the parameters and recalibrate through the local keypad. There is no need to buy a hand held communicator or any other test equipment.
There are no pots or switches to adjust
Simple Diagnostic & Set up
Serial communication for computer interface.
Alphanumeric error messages displayed for turbulent or erratic flow, flows above or below the calibrated 'range, and high flow or low flow cut off points.
User or factory programmable parameters for sampling time, calibration, filtration, and units displayed through the serial communications port or keypad.
Remote data acquisition for reading all internal parameters of the flow meter, as well as the 30,000 points of data logging.
Built in non-volatile memory for setup and calibration data,data logging information, as well as other parameters. Ten + years retention of information
For application questions regarding the use of the MicroTel with other flow meters, please contact us.
Nice Instrumentation Inc. designs their vortex flow meters to be universal for almost all fluid types. Steam, Gas, Air and Water are just a few of the applications where our meters perform best. Nice Instrumentation prides its self on the instrument aspect of our meters. Dual sensors provide high signal quality for a flow rate you can count on.
Each meter is personally programmed for the end users application before shipment and comes with everything you need for installation. This makes installation quick and easy with no pre-programming required before installation.
Many companies and industries have standardized on our vortex meters because of the wide range of fluids we measure. Below are just some of industries we have helped.
Automotive Industry
Chemical Industry
Plastics Plants
Asphalt Plants
Universities
Hospitals
Hotels
Food Processing Plants
WELCOME TO NICE INSTRUMENTATION
Vortex shedding flow measurement has been Nice Instrumentation 's business for over 20 years. Nice Vortex Flow Meters give accurate and repeatable measurement in steam, gases and liquids. The full line of Vortex Flow Meters are designed to withstand the harsh environment both inside and outside the pipe, making the "Next Generation Vortex Flow Meters" a completely maintenance free design.
Dual Sensor Technology using our Microtel microprocessor based electronics eliminates process fluid noise or vibration, while enhancing the true vortex signal. Our Vortex Flow Meters have absolutely NO moving parts, NO internal o-rings, seals or gaskets of any kind. All of our vortex elements are CNC machined out of solid stainless steel stock while our sensors NEVER come into contact with the process fluid.
With over 100 years of combined engineering and machining experience, one can feel confident that your company is getting the world's most innovative and heavy duty flow measurement designs.
APPLICATION WIZARD Nice Instrumentation prides itself with having superior products, while providing superior advice for our customers application needs. The engineers at Nice Instrumentation are here to help you.
You have successfully added from to your part list.
---