Explosion-Proof Immersion Separators
Product Announcement from Nilfisk Industrial Vacuums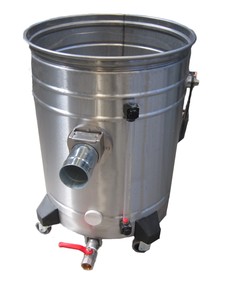 Nilfisk's immersion separators for explosive dusts are built to the same high standards associated with the Nilfisk explosion-proof/dust ignition proof vacuum line. Collect and render inert Group E metal dusts, such as aluminum, magnesium and other commercial alloys, in a water or oil bath.*
Complies with NFPA 484 for safe collection of metal dusts
As part of Nilfisk's NRTL-certified Class II, Group E industrial vacuums or combustible dust safe pneumatic vacuums, the all-in-one design is easy to use and saves space in your work area
CSA-certified for Class I, Group D and Class II, Groups E, F and G as part of Nilfisk VHT437EXP and VHT456EXP vacuums
Constructed of low-sparking 304 stainless steel
Optimal dust capacity to keep weight managable and ensure operator safety
Nilfisk's integrated immersion separator sold with or available as retrofit to Nilfisk models: VHT437EXP or VHT456EXP and VHC200EXP.
Nilfisk's stand-alone immersion separator option is offered for use with other Nilfisk EXP models.
Collection of commercial alloys is subject to individual approval by our application engineer. *A light mineral oil is recommended.
---