GD 10 Back Vacuums
Product Announcement from Nilfisk Industrial Vacuums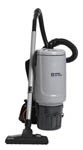 The GD10 Back Vacuum was designed with comfort and ease-of-use in mind. For its small size, the GD10 Back is incredibly powerful and equipped with a variety of features for fast, effective cleaning in a multitude of industries.
• Lightweight, ergonomic design to reduce fatigue (ergonomic study available)
• Low noise level for operator comfort and cleaning in noise-sensitive areas
• Upstream HEPA filter allows for safe collection of hazardous materials, trapping 99.99% of particles, down to and including 0.3 microns.
• Standard equipped with a sack-style main filter that will prolong the life of both the HEPA filter and motor.
• Exhaust air is directed upward so that it does not interfere with the operator.
---