Nilfisk SS Mercury Vacuum Cleaner
Product Announcement from Nilfisk Industrial Vacuums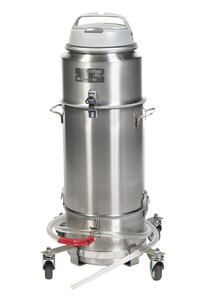 The Nilfisk SS Mercury Vacuum recovers liquid mercury spills and granular mercury compounds effectively, while adsorbing mercury vapors in the process. The 31lb. special carbon charge, in a handy cartridge, typically has a 5-year service life before requiring replacement.

Features and Benefits:
Stainless steel container and trolley ensure easy decontamination.
Positive twist safety latches offer added security and discourage unauthorized disassembly of the cleaner.
Pre-HEPA prevents harmful particulate from damaging carbon filter.
Activated carbon adsorbent filter prevents mercury from escaping via the vacuum's exhaust.
Smooth-lined, transparent Tygon® hose reduces mercury droplet residue.
1 1/2 quart reusable collection bag collects mercury for reuse or reprocessing.
Heavy-duty trolley and locking wheels provide stability and safety.
---