Automotive Manufacturers Specify Nordson EFD
Product Announcement from Nordson EFD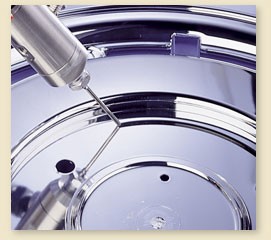 Automotive suppliers and manufacturers worldwide specify Nordson EFD precision dispensing systems to consistently apply adhesives, sealants, grease, inks and other fluids during their assembly processes.
Many of the high-performance fluids needed to bond materials and seal exposed parts are expensive, making waste reduction an important issue. In many applications, the elimination of over-deposits can reduce material waste by 50% or more. Nordson EFD systems are designed to empty material reservoirs as completely as possible, minimizing waste. The closed-system design also reduces waste by minimizing premature curing of the materials.
When fluids are dispensed consistently, regardless of the operator or machine assembling parts, manufacturers are able to achieve better control and streamline production, reducing labor time and rework.
Cleaner application with Nordson EFD systems means less time and cost for cleanup. Many Nordson EFD customers are able to double their output while maintaining—and even increasing—the quality of their products.
Applications include:
Bonding rubber to rubber, weather stripping, mirror assemblies and shock absorbers
Marking for pass/fail status, color-coding similar assemblies and indicating whether a specific test or process has been completed
Greasing and lubricating springs, tracks, hinges and hardware, as well as lubricating caliper plungers in brake assemblies
Potting and sealing electronics and components from moisture and other environmental damage
Lubricating stock, dies and rolls in fin forming applications
Common Fluids
RTV sealants
Anaerobics
Greases
Cyanoacrylates
UV-cure adhesives
Epoxies
Solder pastes
Dispensing Applications
Brakes
Body panels
Frames and suspensions
Wheels and wheel covers
Windshields
Instrument panels
Passenger restraints
Air conditioning systems
Engines and engine components
Transmissions
Electrical systems
Fuel systems
Control switches
Lighting, headlamps
Mirrors
Wiring harness connectors
Sensors, relays, regulators
Automotive Brochure Request
Nordson EFD is the world's leading designer and manufacturer of precision dispensing systems that apply accurate, consistent amounts of the adhesives, sealants, lubricants and other assembly fluids used in virtually every manufacturing process.

When companies are able to put the same amount of fluid in the same place every time, they gain a competitive advantage through higher productivity, improved quality, and lower production costs.
Our worldwide network of experienced fluid application specialists is available to discuss your dispensing project and recommend a system that meets your technical requirements and budget.
You have successfully added from to your part list.
---