Product Announcement from Noren Products, Inc.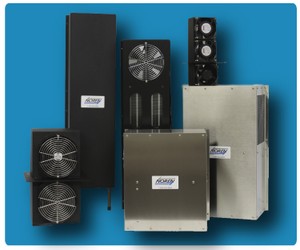 REFRIGERATION:
Do you really need to refrigerate electronics in a sealed enclosure? Certainly a big question for many system designers and engineers.
Air conditioning used to be standard issue for sealed electronic enclosures. Now, most electronics will run fine at 50°C or less. This is why the heat exchanger is now becoming the cooling system of choice. Why?
It is simple, the heat exchanger is reliable with little or no maintenance. Easy to install, lightweight and above all 10 times as efficient as an air conditioner. Achieving a ROI in about 5 months in most cases.
ELECTRONICS COOLING:
The key to keeping electronics cool is airflow. The heat exchanger removes the "hot spots" inside the enclosure by moving air across the electronic processors. Remember, people need to be refrigerated, not electronics.
Noren Products developed the air-to-air heat exchanger for enclosures in the early 80's and now has a complete system for most size enclosure shelters and heat loads. Many companies are very concerned with their energy costs. The compact cabinet coolers help reduce energy consumption dramatically.
The other major concerns for modern electronics are dirt, dust and moisture entering the electrical cabinet. The Noren Products offer dust and dirt free seals on all their products. The waterproof model was developed for wash down and outdoor environment utilizing the Noren wash down fans.
WATER COOLING SOLUTION:
High ambient conditions that often occur in applications are encouraged to use the Noren air-to-water units. These long lasting units are more efficient than air conditioners and use plant water to remove the heat in the panel or cabinet.
Noren Products customers include Rockwell Automation, Cutler Hammer, Square D, General Motors, International Paper, Milicron and Siemens.
For more information or a quote, visit our website at www.norenproducts.com/ccc
Contact our sales team at sales@norenproducts.com
You have successfully added from to your part list.
---