High Power Flush Mount Models
Product Announcement from Noren Products, Inc.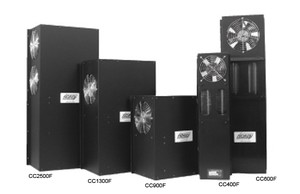 Flush mount Compact Cabinet Coolers remove waste heat from sealed electrical panels and enclosures using Noren heat pipe technology. Our design dissipates heat from sensitive electronic components without exposing them to the harsh and dirty environment outside the cabinet. Common mounting locations for these units are side, front or back as high as possible on the enclosure and with no intrustion into the enclosure.
Noren Products Compact Cabinet Coolers can be ordered with a corrosive resistant coating or with stainless steel housing for harsh environment applications, yet offer the same easy installation, low maintenance and high efficiency as out standard models. Stainless steel housings are available in either 304 or 316.
Noren Products has a complete line of UL/cUL LISTED Compact Cabinet Coolers, including air-to-air and air-to-water models. All are easy to install, offer low maintenance and energy efficient operation. The UL/cUL listed models are perfect for 508A applications. Our complete UL file can be found at SROT.SA9567.



UL and cUL Listed heat exchangers are available for a wide variety of operating environments and meet UL 508A requirements (please specify UL Listed units when ordering)
Noren Compact Cabinet Coolers do not require air filters to maintain reliable operation for a wide range of applications. The normal airflow provided across the fins will remove any dust that might settle. Periodic use of compressed air blown across the fin section will remove any buildup. In certain operations involving sticky, oily dirt or heavy lint, an air filter is recommended to keep the fin section clean and the Cabinet Cooler working at optimum performance. The performance of a Cabinet Cooler is diminished 3% by a clean air filter, 11% by a dirty air filter, and 80% by a clogged air filter
Key Features: · Most powerful cooling Flush Models · 4500 - 7100 BTU's /hr · Light Weight · Mounts outside, flush to enclosure · Maintenance free - just change fans every four years · Quiet - Low dBA For more information or a quote, visit our website at www.norenproducts.com. Contact our sales team at sales@norenproducts.com
You have successfully added from to your part list.
---