Thermal Pin Heat Conductors
Product Announcement from Noren Products, Inc.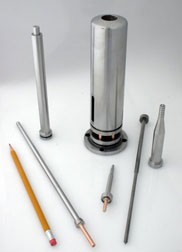 Since the 1970s, molders around the world have benefited from Noren Thermal Pins. Many have switched from water bubblers to Thermal Pins, reducing cycle time and increasing productivity.
Noren Products Thermal Pins are precision built and 100% performance tested which give you the most consistent results.
Most applications pay for themselves in 4-12 weeks. Try THERMAL PIN technology, you will be glad you did!
Installation Guide
Molding Applications
Thermal Pin Core Design
Convert Cores to TP Standard Products
Stock Sizes
Good Reasons to Use Noren Thermal Pin Heat Conductors:
Reduces Cycle Time
Improves Part Quality
Upgrade Old Molds
Fix Damaged Molds
Cut Mold and Molding Costs
Cool Molds Fast to Reduce Cycle Time:
THERMAL PIN heat conductors transfers higher amounts of thermal energy, which trasfers heat toward the cooler end. In small cores, you can cool to a water channel in areas that had previously been inaccessible to water cooling. In solid cores, you can draw heat from the plastic to the mold base or to remote water channels. Most solid-core applications pay for themselves in 4 to 12 weeks. In blow molding, the hollow THERMAL PIN heat conductor uniformly cools the end of the blow pin. Hollow THERMAL PIN heat conductors evenly cool the necks of blow molded bottles. (Ask us for literature on blow molding and other applications). For your mold cooling applications, see our THERMAL PIN heat conductor DESIGN GUIDE section to see if you can reduce your cycle time.
How does a TPhc work?
The TPhc has a wick and a working fluid enclosed in a thin copper shell, as shown at the right. As heat is applied to one end of the TPhc (the evaporator end), the fluid vaporizes and then travels to the other end (the condenser end). As the vapor condenses, it gives up its latent heat. Finally, condensed fluid travels by capillary action along the wick back to the evaporator end.
Cool the TPhc with Warm Coolant:
TPhc's work best when the coolant is between 60° F and 110° F and often higher. (Die casters can set the temperature of the coolant as high as 190° F.) For best results, start with the temperature high and then work down. Call our sales office if you need to run chilled coolant. Determine and specify a TPhc to the final size and configuration. Do not machine, cut or bend TPhc's or cores after TPhc's have been installed. Noren Products can supply you with the size you need (including metric and undersized) and the shape you want, e.g., baffled or finned. You should also be aware that you cannot mold onto TPhc's or apply force against them. If you need to rework your cores, we can advise you about the necessary procedures.
You have successfully added from to your part list.
---