Product Announcement from Norlok Technology, Inc.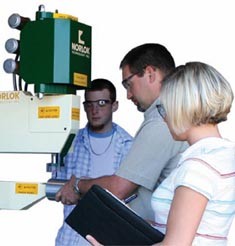 With it's safe operation and innovative design the "Apprentice" by Norlok will introduce students to the modern technology of metal fastening by clinching. Due to it's reliability, low environmental impact and cost effectiveness, Clinching is the new and preferred method of fastening sheet metal in the 14 - 32 gauge range within many manufacturing and sheet metal industries.
Clinching is widely used in the HVAC, building, automotive, appliance, and furniture industries as well as window, swimming pool, garage door and trailer manufactures.
The "Apprentice" by Norlok is being chosen by Colleges and Technical schools throughout North America as an industrial standard clinching machine to give students the hands on training and experience they will need as they enter the world of metal working.
We offer educational material, training and installation (if required) as well as full after purchase technical and maintenance support.
Download a brochure of the Apprentice.

Click here for important safety certification information
Features
Operator safety: The "Apprentice" features a innovative "intelligent"
safety stroke that allows a very low force tooling approach stroke. This eliminates the risk of operator injury during the clinching cycle.
Easy to operate: The "Apprentice" is easy to set up and operate, requiring little initial training and supervision. The machine features automatic cycle return and a low power class II laser pointer for accurate locating of parts.
Clean-environmentally friendly: The "Apprentice" is air powered, and produces no toxic fumes, sparks or heat. Minimal safety equipment is required.
New technology: The "Apprentice" is state of the art technology - this is the equipment your students will find when they enter an industrial environment.
Teaching aids available: Norlok Technology can supply teaching aid to help introduce the students to this technology as well as web site support. Contact us for more information on our expanding range of aids.
Small footprint: The "Apprentice has a small footprint, taking up little floor space. Being air powered it is always available for immediate use.
Affordable: Every thing required to set up and operate the machine is included in the initial cost. This machine has been designed and featured specifically for use in colleges and trade schools.
You have successfully added from to your part list.
---