Product Announcement from North Hills Signal Processing Corp.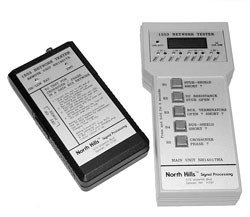 1553 NETWORK TESTER - MODEL DBT100A
The DBT100A is an easy-to-use battery-powered, handheld tester able to quickly troubleshoot or test out a MIL- STD-1553B data bus network. By means of several press-to-test switches, an LCD display and nine pass/fail LEDs, the DBT100A can detect shorts, opens, crossovers and shorts-to-shield on the bus and stubs. These checks are to be performed from the LRU ends of the stub cables only. One of the test modes, DC Resistance, can be used as a general purpose ohm meter with a range of 0 to 199.9 ohms (see Fig.1.).
A remote unit is provided for the phase/crossover test (see Fig. 2.). The tester operates with a common 9V alkaline or rechargeable nicad battery (the kind used in radios and smoke detectors) that is readily available. A battery charger is provided to charge the batteries. Longer battery life is made possible by the press-to-test feature of the tester. To conserve battery life the circuit in the remote unit is in an idle, or "keep alive" mode, when not actually being interrogated. There is a master on/off switch on the remote unit.
The display consists of LED go/no-go indicators and a 0.4 inch, 3 1/2 digit LCD readout for the ohm-meter mode (0 to 199.9 Ohms).
Features:
Go/No-go indicators
Operating instructions on tester
Battery operation - standard batteries
Benefits:
Fast, easy testing
One-man operation
Detects all common problems: shorts, opens, shorts-to-shield, crossovers/phasing
*North Hills Application Note 255 - "North Hills Model DBT100A Network Tester User's Guide" provides further information on the operation of the tester.
You have successfully added from to your part list.
---