Active PCB Mount Video Ground Isolator
Product Announcement from North Hills Signal Processing Corporation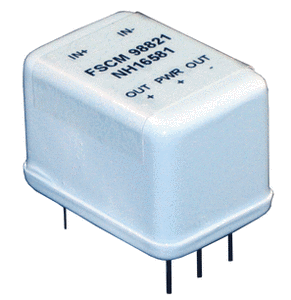 ACTIVE PCB MOUNT VIDEO GROUND ISOLATOR WITH FIELD TILT CORRECTOR
The NH16581 Video Ground Isolator is designed for installation at the receiving end of a coax transmission line. Potential differences between the ground of the coax line and the ground of the receiving equipment are attenuated more than 120 dB for voltages up to 500VRMS.
The input utilizes a capacitor to block the DC bias on the video signal. For some video equipment, capacitors are added as part of the legacy design to protect the equipment from any short circuit to ground. For devices that do not have this capacitor, the NH16581 provides this protection.
The NH16581 implements a wideband video isolation transformer to isolate the input and output grounds and is followed by a video driver amplifier that includes a dc restorer. The output is direct-coupled. This DC-coupled output can be used with devicessuch as: Televisions, flat-panel displays, DVD players, digital camcorders,
digital still cameras, video-capable cell phones, portable video game consoles, PDAs and notebook computers.
The residual field tilt is minimal due to a built-in video field tilt corrector driver on the output.
North Hills Application Note 153 - "Ground Isolation in Video Transmission" and Application Note 157 "Ground Isolationwhen the Video Feed has a DC Component" provide further information on the subject of video isolation transformers.
Please click on the buttons at the top left of this page for more information or to contact us.
You have successfully added from to your part list.
---