DTV Humstopper (50 MHz – 900 MHz)
Product Announcement from North Hills Signal Processing Corporation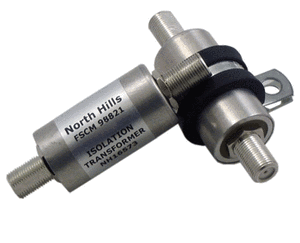 DTV Humstopper (50 MHz – 900 MHz)
Is your TV signal noisy? North Hills has developed the NH16573, a high quality ground isolation transformer with a bandwidth from 50MHz to 900MHz. This "Humstopper" can be used to eliminate the 60Hz hum bars and ac beat interference from your broadcast and cable TV that is degrading your picture.
The NH16573 is the solution for passing any UHF/VHFbased signals, including Digital Television ("DTV"), without degradation, while eliminating the ground loop interference. It has built-in DC isolation between its input and output RG-59 "F" connectors.
North Hills' "Humstoppers" provide quick, cost-effective solutions to interference due to differences in ground potential or induced common-mode noise.
North Hills Application Note 153
- "Ground Isolation in Video Transmission" and Application Note 157 "Ground Isolation when the Video Feed has a DC Component" provide further information on the subject of video isolation transformers.
You have successfully added from to your part list.
---